It's Not the Heat
First, I want to thank everyone for your sympathies regarding our house issues.
Jennifer
even offered to have her husband go give them a piece of his mind, if only they lived a little closer. I've been told that these kinds of delays and issues are not uncommon on new build, but when it's your house it really is exasperating.
The other day in what seemed to me to be sweltering heat I got on a very crowded bus. At the front of the bus is a woman looking much too comfortable in a fur-trimmed coat. I had to wonder, were drugs to blame or do native Californians have a greater tolerance for this weather? Most of the year I would have to say that the weather here is about as perfect as you could ever hope for, but there are days in the summer when the heat just wilts you when you walk out the door. At least that's what it does to this Wisconsin girl. Knitting a wooly sweater is far from my mind on these days. Unfortunately, this means I've been puttering away at smaller, less interesting projects (see below).
I have been working on another Seija blanket (left), Knit and Tonic's beret
Le Slouch
(middle, and the
baby kimona
from Mason-Dixon Knitting (right).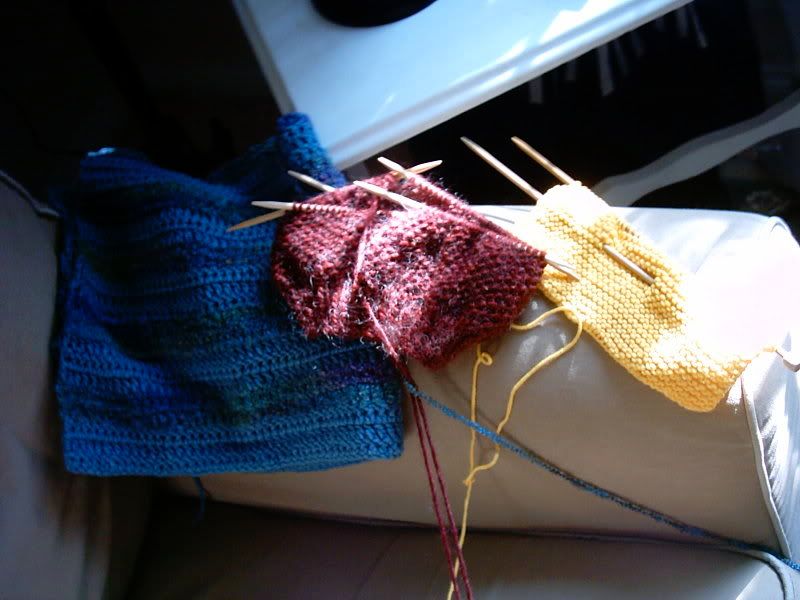 Other than knitting small projects, much has been happening in my household lately, so I will try to catch you up in the next few posts. Just as a warning though, my parents are visiting next week so I may be posting less as I try to keep up with my classes and still spend time with them. I will try to post next weekend at the latest and maybe even have some progress on my knitting to show for it (I wouldn't hold my breath, though).
Also, next Thursday my husband and I will celebrate our fourth wedding anniversary. It won't be quite as romantic with my parents here, but we'll all go out to dinner together and enjoy it nonetheless. I can't complain too much, since last year they spent their 35th wedding anniversary with us. It was not the most pleasant of circumstances either, since they had just helped us move from Rhode Island to California and we were not even close to unpacked. They really are wonderful parents.
Labels: pointless blather, UFOs